Can the relatively inexpensive and tiny form factor Intel NUC be a good photo editing computer? The PC counterpart to Apple's Mac Mini, this is the first in a series of videos taking a look at the Intel 10th generation Next Unit of Computing (NUC) to see how well it can run Lightroom and Photoshop.
What Is an Intel NUC?
The Intel NUC is a small form factor computer, like the PC version of a Mac Mini.  NUC stands for Next Unit of Computing.  Intel started back in 2013 to produce these tiny little computers and here in 2020 they are on their tenth generation of the devices.  The hardware specifications made me believe that these computers would be nice photo editing computers, just like the Mac Mini can be a pretty good little photo editing computer.
Intel NUC For Photographers
If you are listening to Photo Taco you want to know a little about the computer itself, so I'll geek out a little here and try to keep it as relatable as possible to you non-geeks out there.  I have buying guides for photo editing computers at the Photo Taco website where I go into more detail if you want or need that, but here are the things about the NUC that make it a good photo editing PC.
Intel NUC Kit or Fully Assembled?
You can buy an Intel NUC two different ways. There is the kit version, that has everything but the memory (RAM) and the hard drive, or fully assembled versions that come ready to plugin and go.
I know many listeners to Photo Taco aren't terribly comfortable with building computers, so it is good that there are fully assembled versions to buy but I really want to encourage you to give the kit a try if you are interested in this.
In fact, to help you out with your decision, I sat down with my son (who had never built a computer) and had him unbox and assemble the Intel NUC kit I went with. Check out this short video that goes through it all and has me nerding out a little on the stuff that is going to be so great for photographers.
If that all seems to scary for you, check out the recommendations on fully assembled Intel NUC options that will all be great for photographers wanting to run Lightroom and Photoshop (some more great than others).
Even if you aren't building your own kit, I find it helpful to walk through the choices photographers have to make with the Intel NUC so that you can decide which is the best fit for you. Here are those choices in order of importance (what you should spend your hard earned money on first).
Intel NUC Processor (CPU) For Photographers
First up, the most important factor in a photo editing computer, the CPU or processor.  You have choices between Intel Core i3, Core i5, and Core i7.   I recommend the Core i7 because both Lightroom and Photoshop want as much processor as they can get. This is the place photographers should spend their budget first.
I also want to explain that these processors in the Intel NUC are laptop versions.  They are about 25% less powerful as a desktop CPU for multi-threaded computation.

So why would you want to get an Intel NUC computer for your photo editing when it is 75% slower than a real desktop PC?  Two reasons:
It isn't 75% slower on everything.  For most of what you do in both Lightroom and Photoshop (single-threaded computing), the processor is only about 13% slower.  Yet the cost of the processor in the Intel NUC is about 75% cheaper than a comparable desktop version.  You can save money and still get most of the performance while running Lightroom and Photoshop!

It's a tiny little computer! It isn't a big tower desktop computer that takes up a lot of deskspace.  It is actually kind of mobile.  Now you have to attach it to a keyboard, mouse, and monitor, but it is actually quite feasible to take this with you and plug it in to those things where you could never consider that with those computers.  It offers better cooling options over a laptop and you don't have to pay for a monitor so you could upgrade this device more quickly as new versions come out.

You can buy a NUC in a kit where you get a little box that has everything but memory and a hard drive, or you can buy a fully assembled NUC. I opted for the kit so that I could choose the components I wanted to go into the device myself. Even if you have NEVER built a computer before you can totally do this!
Intel NUC Kit Buying Options
| Kit | Performance | Cost | Recommendation |
| --- | --- | --- | --- |
| Core i3 | 41% | $320 | Recommended for really tight budgets |
| Core i5 | 63% | $500 | Pay the $100 more for the Core i7 |
| Core i7 | 100% | $600 | Sweet spot for most photographers |
Intel NUC Memory (RAM) For Photographers
The next most important factor in a photo editing computer is memory.  The absolute baseline for a photo editing computer here in 2020 is 8GB. Photographers should NEVER go any lower with the memory than 8GB. With only 8GB of memory photographers will occasionally run into problems running Lightroom and Photoshop at the same time for even basic editing tasks.
Photographers are much better off with 16GB of memory. Lightroom and Photoshop can be running together and work quite well for most editing situations.  Though if you shoot high megapixel cameras or do a lot of advanced editing like composites, luminosity masking, HDR, or panoramas you will run into challenges with 16GB of memory.
32GB of memory resolves most of the challenges with more advanced photo editing and is really the sweet spot for photographers. This is the amount of memory I recommend if budget allows. However, it doesn't mean you will never run out of memory doing photo editing. I have 32GB of memory in my custom built PC and I often run out of memory doing advanced things in Photoshop like using the shake reduction filter or using the select and mask workspace when I am working on a big 40"x60" image.
64GB of memory is honestly overkill for most photographers, but I went there with my Intel NUC build.  I wanted to see as I use the NUC to edit my photos in Lightroom and Photoshop if I some of the advanced editing work I do works faster when the software gets to use as much memory as it wants. I also plan to do video editing on the NUC and that needs far more memory than photo editing.
64GB of memory is the limit on the 10th generation NUC, but with 64GB being overkill for most photographer this isn't much of a compromise.  In fact, you get the advantage of having the device super easy to upgrade the memory if you have to opt for something like 16GB at first and then go to 32GB or 64GB at some point in the future.  That is why I would recommend that most photographers go with 16GB of RAM to keep the costs down and if you find you need more for the work you do, upgrade it later.
Memory Buying Options:
| Amount | Cost | Recommendation |
| --- | --- | --- |
| 16GB | $70 | Perfect for smaller budgets |
| 32GB | $125 | Sweet spot for most photographers |
| 64GB | $320 | Overkill for most photographers |
Intel NUC Hard Drive (SSD) For Photographers
After CPU and memory, the next most important factor in having a fast photo editing computer is fast storage for your Operating System (OS) and applications (Lightroom and Photoshop).  Intel offers two different kits models of the 10th generation NUC, I recommend the model that has both an M.2 slot and a 2.5" SATA drive bay (FNH version over the FNK).
The M.2 drive allows you to put an NVMe SSD drive into that M.2 slot and get the fastest read/write speeds available in SSD drives here in 2020.  This helps you run Windows, Lightroom, and Photoshop really fast, plus if you have enough budget you could have enough extra space to put your Lightroom catalog on this drive.
I recommend the Samsung 970 EVO Plus SSD drives for photo editing.  They are consistently rated as being extremely fast at a very reasonable price. There are other less expensive options available that will also work very well, like the Crucial MX500 2TB ($230) that will give you far more storage, but to keep things simple here I recommend you stick with the EVO Plus drives.
But what size of SSD should photographers buy?  The bare minimum hard drive size for a photo editing computer where you will install Lightroom and Photoshop is 256GB.  Please don't go down to 128GB SSD because you will face a constant battle of trying to find what you can delete.  128GB of hard drive space just isn't enough to install your operating system, office apps, and photo editing software.
512GB of SSD storage is a much more practical amount for photographers.  I have a 512GB SSD drive in my custom built Windows 10 PC where I have most of the Adobe software installed along with a few other things and I have 216GB free on the drive.  My Lightroom catalog has just over 115,000 photos in it and my catalog takes up 85GB of storage for just the catalog (none of the photos).  I don't currently put my catalog on the same drive where I have Windows, Lightroom, and Photoshop installed (it is on another SSD drive in my desktop computer) but it would fit there pretty easily.
There are 1TB SSD (M.2 PCIe NVMe) drives as well, which would give you enough breathing room you could probably put your Lightroom catalog and the photos you are actively editing on that drive to get the best possible performance out of the computer. If there is budget to do this, I recommend it.
Finally, the largest Samsung 970 EVO Plus drives made here in 2020 are 2TB in size, though the jump in cost from 1TB to 2TB is quite large and the extra space isn't truly helpful for most photographers. If that extra 1TB of storage allowed you to keep your Lightroom catalog and all of your photos on the drive then it might be worth the cost, but it really isn't enough storage to do that for most photographers.
Storage Buying Options
Intel NUC Graphics (GPU) For Photographers
This is going to be a much shorter section of the article here. There are NO options for graphics cards for the Intel NUC. The entire computer is smaller than any graphics card available today. There are no PCIe slots available in the Intel NUC.
The Intel NUC uses the Intel UHD 620 built into the processor to drive graphics. That may sound like bad news, but there are two reasons it really isn't bad for photographers.
The performance of both Lightroom and Photoshop is far more impacted by processor, ram, and storage speeds than they are by graphics cards.

If it the lack of a discrete graphics card (GPU) was a major issue photographers would face the same challenge using Apple Mac Mini and many of Apples MacBook Pro computers to run Lightroom and Photoshop. I would love to see Adobe change that to be a much bigger deal someday, but here in mid-2020 it just isn't a huge factor.
If Adobe does get it together and change Lightroom and Photoshop to take much better advantage of GPU processing, you can add an eGPU to the device through the blazing fast ports on the Intel NUC!

NOTE: Using an eGPU like the Sonnet eGFX Breakaway Box ($250) plus an AMD RX 580 graphics card ($190) with the Intel NUC is something I intend to test very thoroughly at some point in the future. I would go with AMD graphics so that I can also test the same device with a MacBook Pro that lacks a GPU. Stay tuned!
Intel NUC Ports For Photographers
We are admittedly making a bit of a compromise on the processor inside this tiny little computer. We are 100% compromising on a graphics card, though that isn't a big deal for Lightroom and Photoshop for now. What we may be compromising there we are now going to make up for with ports!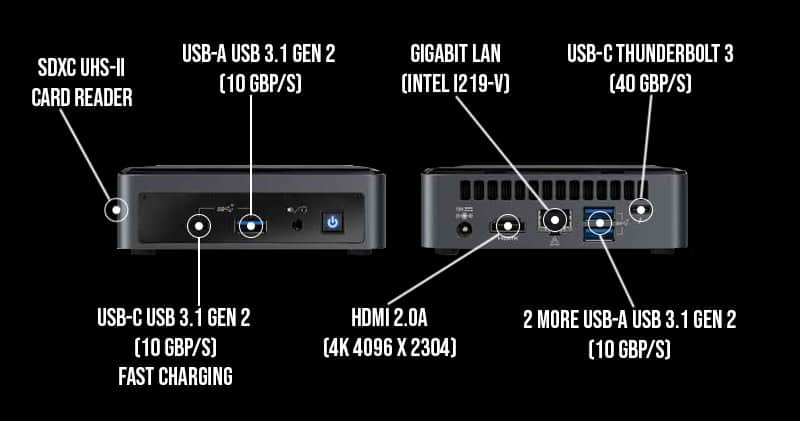 The 10th generation Intel NUC is packed with high speed ports that should matter to all photographers. This is one of the reasons I was so interested in buying one to test out just how it did with running Lightroom and Photoshop myself.
Intel NUC USB-C Thunderbolt 3 Port For Photographers
Let's start with the port most photographers want to know about, Thunderbolt 3. Yep, the 10th generation Intel NUC has one! It is only one. It is the USB-C port on the back of the device, even though there is a USB-C port on the front as well, that one is not Thunderbolt 3.
Why do photographers care about Thunderbolt 3? Storage speed can be a big concern for photographers. If you are following this guide your are likely going to end up with a hard drive inside the computer that has pretty limited space that would rapidly become an issue for storing photos. Thunderbolt 3 ports provide a massive 40Gbp/s connection where you can get tremendous storage speeds with external drives to address that problem!
That said, in my testing of the impact of external drives on Lightroom I found that the speeds of USB 3.0 are actually good enough to not be a major bottleneck (processor is the biggest factor). Though I will be adding more data to that testing with the Intel NUC and 2018 15″ MacBook Pro to see if having storage that actually goes to the speeds supported by Thunderbolt 3 has an impact.
Intel NUC USB 3.1 Gen 2 Ports For Photographers
The 10th generation Intel NUC only has a single Thunderbolt 3 port, but it has 4 USB 3.1 Gen 2 ports! I know, USB is so confusing, so what does a USB 3.1 Gen 2 port do? Well, it offers 10Gbp/s connection speeds.
Yeah, that is 1/4 the speed of Thunderbolt 3 (we have one of those!), but it is 2x as fast as USB 3.0 (5Gbp/s) and 1.6x faster than the SATA 3 (6Gbp/s). It means all of these USB ports on the 10th generation Intel NUC offer connection speeds faster than you could get with internal connections in the past!
With the Intel NUC you can actually take full advantage of SSD speeds where you couldn't with USB 3.0. You have some incredible options for expanding your storage without sacrificing speed.
Intel NUC SDXC UHS-II Memory Card Slot For Photographers

Yep, the 10th generation Intel NUC has a built in SDXC UHS-II memory card reader! No need to connect a USB card reader. I ran a test using a Lexar Professional 150MB/s UHS-II card in the Intel NUC card reader and compared it with the same card in my Kingston USB 3.0 Super Speed Multi-Card reader. The speeds were great, on both, getting everything out of that card in both readers.
Intel NUC Windows 10 For Photographers
As is always the case with computers, there are a lot of options to choose from. I hope the information above helps you understand those options and helps you to make a good choice. Intel NUC or some other computer, the thinking and rationale of the hardware above applies to everything here in 2020.
Before we get to the total costs we still have a component we have to purchase if you are building a kit. You need to buy a license for Windows. 10 years ago this would have been the point where I would say things got harder if you had no experience with it, but Microsoft actually has their installation process down pretty well these days.
There are two versions of Windows photographers can choose from. Windows 10 Professional or Windows 10 Home. I recommend Windows 10 Professional for photographers. Yes, it is a little bit more expensive than Windows 10 Home, but it is worth a single feature only in Professional – delayed updates.
Updates from Adobe, Apple, and Microsoft have all had a long history of problems over the years. Each of them have made miss-steps that have caused photographers problems that disrupt their workflow.
With Windows 10 Home you can delay updates for up to 35 days. With Professional you get a full year you can wait! That is totally worth the extra dollars to me, but it is a choice up to you. If delayed updates are not important to you, Pro doesn't offer anything more than Home for photographers.
You can buy Windows 10 Pro directly from Microsoft ($200) or you can save yourself some money by buying EXACTLY the same Windows 10 Pro from Amazon ($180). You can also buy Windows 10 Home from Amazon ($130).
Intel NUC Kit Options For Photographers
Obviously there are a lot of choices here for photographers. You may have decided on your own already but I thought I would provide this table to outline low, medium, and high budget choices for photographers. Oh, I also threw in here how much a comparable Mac Mini costs here in mid 2020.
NOTE: The Mac Mini has a processor advantage over the Intel NUC. The Intel Core i7-8700 in the Mac Mini is about 22% faster overall but only about 8% faster for single threaded computing. 8% improvement in speed at nearly 50% more cost. Don't get me wrong, I love the Mac Mini and think it is a really good option as a photo editing computer, just sharing the information.

Intel NUC For Photographers – Fully Assembled Options
If after reading through all of this and seeing the video of my son unbox and assemble the NUC you don't think you can do that (seriously, you totally can) then there are a few options to buy fully assembled Intel NUC computers with Windows installed.
All of these by their specs would make pretty good photo editing computers. I have never bought anything from this seller on Amazon so I can't vouch for their build quality or customer service (just build your own!).
Processor
Memory
Hard Drive
Cost
Notes
Core i7
64GB
500GB
$1,300
Intel NUC NUC10i7FNH1 Mini PC/HTPC, Six-Core i7 – Up to 4.7GHz Turbo, 500GB NVMe SSD, 64GB DDR4-2666Mhz RAM
Same configuration as mine
Core i7
64GB
1TB
$1,350
Intel NUC NUC10i7FNH1 Mini PC/HTPC, Six-Core i7 – Up to 4.7GHz Turbo, 1TB NVMe SSD, 64GB DDR4-2666 Mhz RAM
2x of slightly slower storage
Core i7
32GB
2TB
$1,300
Intel NUC NUC10i7FNH1 Mini PC/HTPC, Six-Core i7 – Up to 4.7GHz Turbo, 2TB NVMe SSD, 32GB DDR4-2666 Mhz RAM
4x of slightly slower storage (still plenty fast) and half the memory
Core i7
32GB
500GB
$1,070
Intel NUC NUC10i7FNH1 Mini PC/HTPC, Six-Core i7 – Up to 4.7GHz Turbo, NVMe SSD, DDR4-2666 Mhz RAM
Same storage, 1/2 the memory
Core i5
32GB
500GB
$900
Intel NUC NUC10i5FNH1 Mini PC/HTPC, Quad-Core i5; 1.6Ghz up to 4.2Ghz Turbo, NVMe SSD, DDR4-2666 Mhz RAM
Slower processor, 1/2 memory, same storage
Core i5
32GB
1TB
$950
Intel NUC NUC10i5FNH1 Mini PC/HTPC, Quad-Core i5; 1.6Ghz up to 4.2Ghz Turbo, NVMe SSD, DDR4-2666 Mhz RAM
Slower processor, 1/2 memory, 2x storage
Reminders
Podcast: Download (Duration: 1:05:57 — 46.5MB) | Embed
Subscribe: Google Podcasts | Stitcher | TuneIn | RSS
Did this article help you?