Apple released a number of new MacBooks in 2021. This guide skips all the hype and provides real-world recommendations on what a photographer who want a MacBook should buy to run Lightroom and Photoshop.
Most photographers will have an excellent photo editing computer in the base configuration 14″ MacBook Pro with the M1 Pro 8-core processor, 16GB of memory, and 512GB of storage for about $2,000. Though more budget constrained photographers are going to be just fine with less expensive options with the M1 MacBook Air or M1 Mac Mini.
For years photographers have struggled with buying computers. Not being experts in all of the technical terms and options involved with buying a computer, they just max everything out and hope the enormous price tag gets them a computer that runs their photo editing applications for 3-5 years. As a result, most photographers overspend when buying a photo editing computer.
This guide is here to help photographers make an informed decision on where to invest their money on a new MacBook Pro. With years of background in developing code and building my own computers combined with years of experience as a photographer I can bridge that gap and help photographers make the best decision for them. While this guide should be helpful to all photographers, there is an emphasis towards photographers who want to buy a MacBook Pro that provides an excellent photo editing experience for the smallest possible price.
NOTE: This guide is specific to buying a 2021 MacBook Pro for photo editing. With many photographers also needing to edit video there are some places where that is also mentioned but video editing is not the focus. Other than video, the recommendations in this guide may not be well suited for other computing like gaming or coding.
TLDR Budget and Model Recommendations
For photographers who don't want to read through this long guide, here are the options I recommend for different budget levels. This does not include all variations, just the configuration I recommend at that price point. The % Cost Increase column is the increase in cost from that line vs the line just above to help you make a decision if that increase is worth the benefit to you.
Budget
Recommended Configuration
% Cost Increase
Performance
Increase
$1,200
M1 Mac Mini/16GB/512GB
N/A
Very good performance in Lightroom Classic and Photoshop for 90% of photographers
$1,500
M1 MacBook Air/16GB/512GB
25%
Exactly the same as above but mobile
$1,700
M1 MacBook Air/16GB/1TB
13%
Exactly the same as above with 2x drive space
$2,000
14″ M1 Pro 8-core CPU MacBook Pro/16GB/512GB
18%
Exports and building previews in Lightroom Classic about 10% faster, everything else about the same as above. Much better ports offered.
$2,200
14″ M1 Pro 8-core CPU MacBook Pro/16GB/1TB
10%
Same as above with 2x drive space
$2,600
14″ M1 Pro 8-core CPU MacBook Pro/32GB/1TB
18%
Noticeably better performance for advanced photo editing like panoramas, HDR, and composites (lots of layers in Photoshop) of big raw files (30+ megapixels).
$2,900
14″ M1 Pro 16-core GPU MacBook Pro/32GB/1TB
12%
No noticeable difference in Lightroom and Photoshop. Noticeable difference in video editing.
$3,900
16″ M1 Max 32-core GPU MacBook Pro/64GB/1TB
34%
Still no noticeable difference in Lightroom and Photoshop. Significant difference in video editing.
Photographers are so used to having to pay top dollar to get the highest processor option available for their photo editing software to be fast, but with the 2021 Mac lineup photographers can be far more budget conscious than they have been in the past. The M1 processor is a big enough change from how Intel-based Macs worked photographers don't have to spend as much to get a fantastic photo editing experience.
I know it is hard to believe but the truth is that for most photo editing workflows there is very little difference between the $1,200 Mac Mini and the $2,900 14″ MacBook Pro option (or higher). At least with regard to the editing process itself like how the sliders work in Lightroom Classic. Photographers are going to be extremely happy with any of these options for working in Lightroom, Photoshop, Topaz, Capture One, etc.
The sweet spot for photographers buying a new Mac for photo editing late in 2021 (until Apple refreshes the lineup again) is the $2,000 configuration. The less expensive options will perform pretty close to the same for most photographers, but the possibility do photo editing away from the office plus the better ports in the 2021 14″ MacBook Pro are investments I recommend photographers make if budget allows.
If you do more advanced photo editing of large raw files the $2,000 configuration is still going to do really well, but you would probably be wise to future-proof your purchase with the $2,600 investment. Only if you do a fair amount of video editing in addition to photo editing would I recommend the $2,900 configuration. I think the $3,900 configuration is the most I would recommend anyone upgrade and it is only needed if you do a massive amount of video editing.
Decision 1: Form Factor
If you are a photography firmly convinced you absolutely must have a MacBook Pro laptop computer for your photo editing needs, you can skip this decision and move to the next one. Though I really hope you will read through this decision to make an informed choice on this significant investment.
I think the first decisions photographers need to make when looking to buy a new Mac in late 2021 is the form factor. Throughout 2021 Apple updated their entire lineup with fresh new computers. Which of those should a photographer choose?
The answer depends a lot on how it is a photographer uses their computer. It has been my experience that a huge number of photographers buy laptop computers when the reality is they can do just fine with a desktop computer. As a result, photographers tend to significantly overpay for their computers. You are reading this guide because you are a photographer looking for laptop computer to do photo editing, but before going forward in this buying guide I urge you to ask yourself when was the last time you actually did photo editing away from home?
Little to No Mobile Photo Editing
If you don't do much photo editing away from home, have budget constraints, and want to use a Mac, then consider the Mac Mini. Older Mac Mini computers have been enough for most photographers for a while now. I have recommended them to many listeners of my podcast and readers of this website and have yet to get any complaints the computer wasn't good enough for their photo editing needs. Quite the opposite, I have often heard back from them just how surprised they were at the speed in these tiny little computers.
This hasn't always been the case. When the Mac Mini was first introduced it wasn't suitable as a photo editing computer. It was barely capable of surfing the web and creating documents, similar to really inexpensive Windows computers. They were not up to the task for photo editing. If that has been your experience in the past, don't worry about it being an issue here in 2021.
With the new processor, the 2021 M1 Mac Mini is the very best price to performance Mac option for nearly all photographers. If you don't need a laptop computer for photo editing you can get a new Mac for about 35-50% less than a MacBook Pro that will be plenty of computer for nearly every photographer. Check out my Photographers Guide to Buying a 2021 M1 Mac Mini (coming soon).
iMac has long been a very good solution for photographers as well, combining good performance with some of the highest quality screens available. Unfortunately, I can't recommend the 2021 24″ M1 iMac to photographers due to the screen size. The screen remains one of the very best available in 2021, but it is too small.
I can hear the argument already, MacBooks only have 14″ screens and I am recommending them! True. However, there is simply no substitute for a larger screen that you should be use when editing at home which is what you do with an iMac. 27″ is the bare minimum screen size I recommend for photo editing in 2021. 32″ screens are so affordable I think that is what most photographers should invest in today.
I am so convinced photographers should not buy a 2021 24″ M1 iMac for photo editing I am not creating a photographer's buying guide for it. Though from a performance perspective it is actually exactly the same as the M1 Mac Mini, M1 MacBook Air, and M1 13″ MacBook Pro so much of what I have written in this buying guide could be applied if you really want to get an iMac.
Frequent Mobile Photo Editing or Bigger Budget
If you have a significant need for photo editing away from home, or even an occasional mobile editing need that is worth at least 35% more cost, then photographers have two good choices in 2021 with the MacBook Air and the MacBook Pro. Yep, that's right, the 2021 M1 MacBook Air is a laptop I can actually recommend to photographers for their photo editing needs!
The 2021 M1 MacBook Air is a reasonable middle ground between the extremely budget conscious but non-mobile solution of the M1 Mac Mini and the higher budget option of a MacBook Pro. Unlike previous generations of the MacBook Air, the 2021 M1 MacBook Air has the same processing power of the 2021 M1 Mac Mini! You can think of the MacBook Air like a more expensive version of the Mac Mini in a portable form factor. It is a good option for photographers who want to the ability to do the occasional mobile photo editing session.
If you are a photographer willing to pay a bit more for the option to edit away from home but need to be in a $1,500 budget, check out my Photographer's Guide to Buying a 2021 MacBook Air (coming soon).
If you are a photographer who frequently needs a really good mobile editing experience and a budget of at least $2,000, the 2021 M1 MacBook Pro you are reading the right buying guide.
Decision 2: Screen Size
2021 13″ M1 MacBook Pro – No Longer Recommended
I am sad to say it, but let's dismiss the 13″ option. Not because the 2021 13″ M1 MacBook Pro is a bad computer. Quite the opposite. As my primary computer for a 4 month period and it was nothing but excellent for photo editing, live streaming (OBS), and coding. I have no doubt all photographers would be very happy with the 2021 13″ M1 MacBook Pro.
The reason I don't recommend it is the two other Apple products that better fit photographers based on needs. If budget is a primary constraint, the less expensive 2021 M1 MacBook Air is going to be identical in performance for photo editing needs as the 2021 13″ M1 MacBook Pro. If there is a little higher budget and a little more demanding workloads (e.g. video editing) the 2021 14″ M1 MacBook Pro is only 17% more than the 13″ – well worth the extra dollars for the larger screen and more ports.
Apple priced the 2021 13″ M1 MacBook Pro at a point where it doesn't make sense for photographers. Not that any photographer should throw away their 2021 13″ M1 MacBook Pro (I love mine). In fact, if you already invested in a 2021 13″ M1 MacBook Pro you should stick with it. For those who have an older computer looking to buy something in late 2021, photographers are better off choosing between the 2021 M1 MacBook Air or the 2021 14″ M1 MacBook Pro.
2021 14″ or 16″ M1 MacBook Pro – Recommended
I love that Apple made the decision between the 14″ and the 16″ 2021 M1 MacBook Pro computers entirely about the screen size and weight that best fits you. For many years if you really wanted to get the full processing power or all the ports, you had to buy the larger screen size. Not so here in 2021 with the 14″ and 16″ M1 MacBook Pro where you can get exactly the same processing power and ports in both.
There are two things other than the size of the screen photographers should consider:
Heat Throttling. Based on the data I have seen from early adopters who have put the 14″ and 16″ computers to the test I don't think this is actually much of an issue, but I need to mention possible issues with heat. With the 14″ being quite a bit smaller there isn't as much room to deal with heat and physics dictates that the 14″ should be forced into slowing down due to heat constraints faster than the 16″ model.

Not only could the 14″ have to throttle performance from heat, early tests indicate that Apple is allowing the computer to run hotter over longer periods of time when compared with previous generations and this could mean the 14″ may not last as long as the 16″. Heat is an enemy to performance and to longevity.

This is one of the things Apple has worked very hard to improve with their chips over what they were getting with Intel chips, and I think they have succeeded enough this shouldn't be a reason for photographers to choose one over the other. Most photographer workflows won't challenge the 14″ enough to make heat become an issue with throttling or longevity. Though this COULD be a factor if you also do a lot of video editing.
Battery Life. Being physically bigger, the 16″ has a bigger battery and that should mean longer battery life. Apple provides ratings for them with video playback as the metric with 17 hours for the 14″ and 21 hours for the 16″, a difference of 4 hours.

That may seem like a massive difference, but the real numbers of how much time a photographers will get out of these computers while editing photos is going to be much less and the difference here is going to be negligible. In fact, if you get the lowest end M1 chip in the 14″ MacBook Pro it may have more battery life than a fully loaded 16″ MacBook Pro due to having less silicon it has to provide power to (pixels on the screen and processors in the chip).

For photographers who really want the best battery life while doing photo editing away from home, the 14″ may be your best option so long as you configure it with less processor and memory – something I am confident will be plenty of computer.
I recommend photographers choose between these two great options based on personal preference of screen size and weight. If you travel a lot it may be super important to you that the computer be as small and light as possible. If you work with your computer mostly at home (maybe you should check out the 2021 M1 Mac Mini) the extra two inches of screen may be more important.

All up to you. I prefer smaller laptops for when I do have to take them out of the house, so 14″ is my choice but 16″ is definitely not a bad choice. In spite of the two technical considerations I raised above, I don't think there is a technical reason photographers should choose one over the other. If you are having a hard time deciding maybe the cost increase of about 25% more for the 16″ helps you decide.
Decision 3: Processor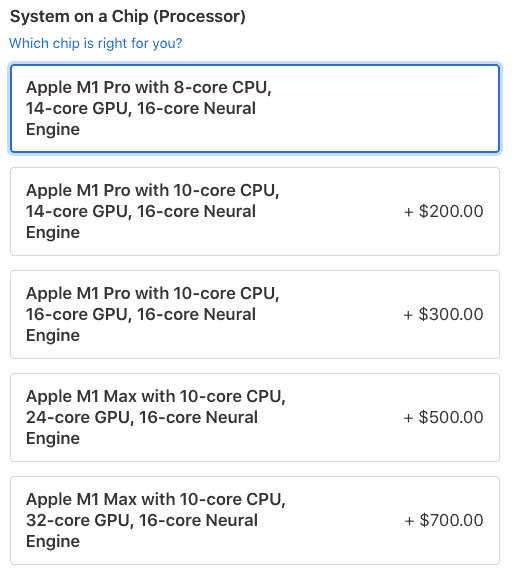 Now we start the fun. We get to our first technical specification. In previous version of the MacBook Pro the processor options were difficult to compare and understand. Fortunately it is much easier to explain things with the 2021 lineup.
I want to be very clear right upfront that I am firmly convinced photographers DO NOT need to pay for the M1 Max processor.
I know photographers are very accustomed to picking the top option for the processor as they have ordered MacBooks in the past. I have buying guides on this site for older versions of the MacBooks where I recommend doing that very thing. That is not what you need to do here.
An increase of 55% in cost for the maxed out M1 Max chip is unnecessary spending for 90% of photographers.
Seriously. Back away from that M1 Max button and save yourself some money on this investment. Photographers simply don't need it.
M1 Pro – Recommended
With no reliable scientific metrics available yet between these two processors I don't feel confident in linking to any statistical comparisons just yet. So how do I know that photographers don't need that M1 Max? Experience.
Not first-hand experience with the 14″ or 16″ M1 MacBook Pro just yet (on order and will update here after I get that first hand experience), but my direct hands-on experience doing real-world photo editing using my 13″ M1 MacBook Pro. Using that machine for 4 months as my primary photo editing device was fantastic. The lowest System on a Chip option in the 2021 14″ M1 MacBook Pro is better than the M1 in the 2021 13″ MacBook Pro. I know it is more than ready for the task.
Beyond my first hand experience, I have also spent hours going through anecdotal reports from early adopters directly comparing the M1 Pro to the M1 Max chips. Their findings only added to my confidence in this recommendation. Photographers will be extremely satisfied with the M1 Pro chips in their 2021 MacBook Pro and don't need to pay the expense for the M1 Max.
The best price to performance for a 2021 Mac laptop to do photo editing is the M1 MacBook Air, but it lacks in screen size and ports, the ports being one of the things photographers are very likely to need. The next best price to performance is the 14″ MacBook Pro with the smallest M1 Pro processor (not offered in the 16″ model). For a budget constrained photographer that needs a computer that will last for the next 3-5 years, the 14″ with M1 Pro is the way to go.
M1 Max – Overkill
How do you know if you are in that 10% of photographers who may actually need the additional processing power of the M1 Max? To over simplify it a bit, a lot of video editing. Not occasional video editing like once a month or less. Pretty serious video editing to make the M1 Max worth the cost as the M1 Pro is also extremely capable with regards to video editing.
If you regularly edit multiple streams of 8K video at once or are rendering 4K video frequently (daily/weekly) then the M1 Max is going to be a benefit to you. Other than that, even if you are editing thousands of enormous raw files (like 50+ megapixels) photographers are very unlikely to see much of a performance difference today between the M1 Pro and the M1 Max. The anecdotal data from early adopters suggests less than 5% of a performance improvement for photo editing tasks at 55% more cost.
Besides video editing, the one other reason I could see photographers may want to invest in the M1 Max is to future proof their purchase. Most photographers only get the chance to buy a new computer every 3-5 years for accounting/tax purposes and they have to make it count when they do. With how photo editing software works today I don't expect the M1 Max to perform significantly better than the M1 Pro, but I do see development of our photo editing programs going in the way of making the differences matter more in the future.
If you don't believe me and want to just make sure you make this purchase count, get the best processor you can fit into your budget. Maybe don't go for the highest M1 Max processor and get the lower one. I just think that it is going to be a while (if ever) before the additional cost ends up being meaningful to 90% of the workflows used by photographers.
If you have to decide between more memory (next decision) and a bigger M1, invest in the memory first. If you have to decide between upgrading storage, memory, or processor go with storage first.
Decision 4: Memory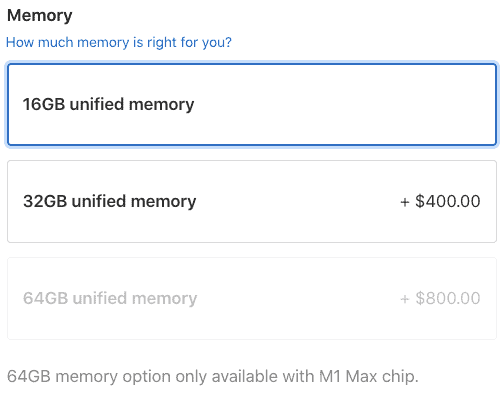 Another fun technical decision that in previous years has been pretty hard to work through with different options in different sizes. Apple has simplified this a lot in their 2021 laptops making the same memory options available in both the 14″ and 16″.
Before we get into the recommendation for a fast running photo editing computer, I need to bring up that what we are talking about here is memory and not storage. It is rather unfortunate that both are measured in GB today, making it really hard for many people to understand the difference.
Memory is super fast but very temporary storage. It is something a computer needs to keep track of things but it gets completely erased when you turn off the computer. Storage is the drive inside your computer where you permanently store your applications and photos.
Not having enough memory can really cause things to be slow and with all of the M1 Macs you don't have the ability to upgrade the memory. You have to get this right as you order. One of the great things about this guide is that it has the right advice for the right thing under the right name. Just follow the guide and don't worry if you don't really understand the difference.
16GB Unified Memory – Recommended
Thankfully we don't have to go through an 8GB option anymore and talk about how that just isn't enough for photo editing on any computer. 16 GB of memory is the option I recommend for 90% of photographers in the 2021 M1 MacBook Pro computers.
Hold on. Isn't 16GB of memory the lowest option available? Haven't I on this very website said that 16GB was a good but not great option for photo editing computers? Yep, all true. In the past 16GB has been enough for photographers who mostly do their work in Lightroom and occasionally edit a few select images in Photoshop. Anything more than that like compositing, HDR, or panoramas and I have recommended 32GB if not 64GB. That isn't the case with the 2021 M1 MacBook Pro.
With the 2021 MacBook Pro lineup, 16GB of their new unified memory is enough for intense workflows that previously required 32GB or more memory. I am not just talking about compositing/HDR/pano workflows either, even intense video editing workflows. With architectural changes to how the processor and memory work together, the speed of the memory, and the speed of the SSD in the 2021 MacBook Pro computers, 16GB is the new 32GB of memory.
This advice is coming from a photographer who has been using a custom built Windows PC with 32GB of memory since 2014. I do advanced photo editing. I do composites. I do batch automation work for sports teams. Since 2014 I have frequently challenged the limits of 32GB of memory on my Windows PC and 16GB of memory in my 2017 13″ Intel MacBook Pro. I was certain that my next computer was going to have 64GB of memory because I was really needing it with some of my more intense work on Intel-based computers.
To keep my costs down and check out the M1 processor, I bought the entry level 2021 13″ M1 MacBook Pro with 16GB of memory. It was more of a test than a serious purchase. I mostly bought it so that I could develop a cross-platform testing tool for Lightroom Classic, but did a whole lot of photo editing over 4 months as well. I have been perfectly happy with 16GB in my 2021 13″ M1 MacBook Pro editing thousands of images in Lightroom, Photoshop, and Topaz Labs products.
32GB Unified Memory – Recommended For Intense Photo and Video Editing
For 25% more cost you can double the memory in your 2021 MacBook Pro from 16GB to 32GB. For 90% of photographers that is 25% more cost for performance you won't use. As I pointed out in the last section, 32GB of memory has been a recommended upgrade for every photographer who could afford it in past buying guides, but for the 2021 M1 MacBook Pro it is overkill for most photographers who read this guide.
The 10% of photographers who may actually utilize 32GB of memory in their 2021 M1 MacBook Pro are those who process thousands of images a week AND do advanced photo editing beyond Lightroom and a little Photoshop. This would also be helpful for photographers who do video at least once a week.
If you have the budget or fall in that 10% who can benefit from the extra memory, spend the money to upgrade from 16 to 32GB before you upgrade the processor but after upgrading the storage. If you want to splurge on one thing as you buy a 2021 M1 MacBook Pro, storage is the place to do that but this is second.
64GB Unified Memory – Overkill
This is the first complicated technical specification to outline in this buying guide. The upgrade to 64GB of memory is only offered if you also upgrade to the M1 Max processor. That means the increased cost is about 65% to configure a 14″ over the specifications I recommend and about 40% more for the 16″. This is an increase in cost that 99% of photographers do not need. It is very unlikely that photographers would see anywhere close to 40-65% improvement in performance to go with that increase in cost.
I know, you are having a really hard time believing me as you read this recommendation. I can't believe it myself given how convinced I have been that my next computer would have 64GB of memory. Still, I am sticking firm to this, photographers really do not need 64GB of memory in a 2021 M1 MacBook. Sure, if you have the budget, then I guess why not? Though I wonder why those who have this kind of budget to buy whatever they want regardless of need bother reading this guide.
For the rest of us (I have to be as frugal as possible in my photography expenses), save your money and spend it on other things that will improve your photography like workshops, video training, or gear (in that order). If as you read the guide you just don't believe me that 16GB is plenty for most photography workflows, splurge on the upgrade to 32GB but don't take it all the way to 64GB unless you have money to burn.
Decision 5: Storage
Storage is a tricky topic in these Mac buying guides for photographers. Photographers have a legitimate need for a lot of storage and for a few years Apple has offered a lot of really fast and reliable storage in their Macs as upgrades. The problem is the cost of the storage you buy in a Mac gets out of control really fast.
Like memory and processor, storage is also a permanent decision in a 2021 MacBook Pro. The SSD is soldered to the logic board of the computer and is not user replaceable. It isn't really Apple replaceable either. If you want to change your mind with how much storage is inside your 2021 MacBook Pro, you will be buying a new one.
It is hard to put a specific number on things, but after working with thousands for photographers over the years my sense is the average photographers needs at least 2TB of storage for their images. That doesn't count MacOS, applications like Lightroom and Photoshop, or a Lightroom Catalog. It is understandable then that photographers would would to have enough storage in their computer for all of those things. Let's walk through the options so that you can make an informed decision with the 2021 M1 MacBook Pro.
512GB SSD Storage – Budget Recommendation
The best price to performance option is 512GB. When I say best price to performance I am not talking about speed of the storage. There isn't any difference in the speed of the storage between these upgrades. It is the best price for the size of the storage, the most bank for your buck. As has been the case for many years with Apple computers, the cost for bigger storage gets unreasonable very quickly.
Don't mistake "budget recommendation" here for cheap or inadequate. True, with 512GB of storage photographers can't really plan to store more than 1 or 2 shoots on their computer. Yes, that means external hard drives. But that is a reality for most photographers even if they upgrade to 1TB or 2TB of storage. If you are likely to end up with external hard drives anyway, why pay higher costs for the extra storage in your MacBook Pro?
Let me make my case for 512GB based on real-world experience using my 2021 13″ M1 MacBook Pro over a 4 month period for EVERYTHING I was doing:

Even with a large number of applications installed, there is plenty of room for a photo shoot or two. Maybe even a video editing project depending on the source. In fact, this usage includes a lot of applications most photographers won't install (Xcode and VSCode) that I used for my coding project to create a Lightroom Classic testing tool (still in progress).
Unlike the 256GB option Apple has offered in the past, where it was doable but tight enough I had to do some pretty regular cleaning up of downloads just to make sure I could keep things running (especially OS upgrades), 512GB seems very comfortable for photo editing. Instead of paying for Apple's high upgrade costs for storage, you can buy some really fast and mobile storage at much lower cost:
BTW, I have tested all but the WD drive with my 2021 13″ M1 MacBook Pro. The first two are excellent with regard to speed and utility, close to the speed of the drives inside the MacBook Pro. The Seagate is noticeably slower since it us USB 3.0, but still provides a good enough photo editing experience for me to recommend the drive. With all of them powered by the USB bus (don't require a power cord, just the USB cable) all of them are as easy to take with you for remote edits as it gets.
1TB SSD Storage – Recommended
I think it makes a lot of sense for many photographers to stick with 512GB of storage, but at only a 10% increase in cost I think this is the first upgrade that makes the most sense for photographers to choose. Photographers should buy the 1TB SSD before upgrading from 16GB of memory to 32GB of memory and both of those before upgrading from the M1 Pro to the M1 Max processor.
Though that isn't likely 1TB will be enough storage for a photographer to keep all of their images on the computer, it is very likely they could keep a Lightroom catalog with smart previews for all of the images on the computer plus the original files for a shoot or two.
Yes, it means you still live in external drive land, but there is enough upside I think it is easy to justify the minimal increase in investment. Most photographers will be glad they paid a little extra for the room on their computer to stretch out and relax, though the 512GB option will be great for those who are struggling just to get to the $2,000 for the base 14″.
2TB SSD Storage – Not Recommended
With most photographers being forced to use external drives even if they have 2TB of internal storage, 2TB is a size and price point that just doesn't makes sense. Photographers should either go with a lower storage/cost option or pay for the 4TB of storage if they really need to avoid external drives.
4TB SSD Storage – Mobile First Recommended
At a 60% increase in cost it would be easy for me to say that 4TB of internal storage doesn't make sense for any photographer. The cost for this upgrade is an outrageous amount of money for storage. If you invested the same money into external storage you could easily get 3x the space for the same cost with something like the OWC 4M2 enclosure and 4 M.2 SSD drives.
On the other hand, I can appreciate the pain of traveling and having to drag around an external drive for your photo editing needs. If I was a photographer who traveled and did most of my photo editing away from home, I would have to think hard about paying for this upgrade.
Other than that use case, which I am guessing is not the situation for most photographers reading this guide, choose a lower storage option and invest the money saved in other photography needs.
8TB SSD Storage – Not Recommended
Now we are firmly in crazy land. At 120% increase in cost of a MacBook Pro, this is an investment that doesn't make sense for photographers. Even if you primarily travel for your photography I can't imagine this cost making business sense.
Maybe I am wrong. Maybe there is a photographer out there who gets paid top dollar to shoot remote locations, shoots massive raw images, is away from home for months at a time, and needs 8TB of storage. That kind of photographer is probably getting enough money to justify this kind of expense for storage. For the rest of us, it does not.
The one use case related to photography is the avid video editor. If you create a video a week or more, regularly edit away from your office, and have to deal with 4K or better source for those videos, it MIGHT make sense to invest in 8TB so that your source is always available wherever you have your MacBook.
One of the reasons for this is that there aren't great mobile hard drive options in this storage size. Yes, there are external drives designed for desktops like the Lacie 1Big Thunderbolt 3 8TB drive ($470) that provide this size of storage but they aren't very portable. At a cost increase of 500% for 8TB inside the MacBook Pro over that external option, I have a hard time making a business justification to pay Apple for this upgrade, but that is something only you can decide.
Decision 6: Power Adapter
If you are following this guide and have chosen the 14″ model with the lowest M1 Pro processor, you have one final decision to make between two power adapters. If you upgrade the processor to the upper M1 Pro or choose the 16″ model you don't have to decide because the bigger of the two power adapters is included automatically.
Both will power your 14″ M1 Pro MacBook Pro just fine, but the 96W adapter has the ability to charge any of the 2021 MacBook Pro models from 0 to 50% battery in 30 minutes. At a cost increase of only 1% this is a no-brainer to me. Buy the bigger power adapter so that you get that fast charging capability whenever you need it.
Did this article help you?