In early February 2022 Apple added a new product to their line of Mac computers. It isn't an entirely new concept with the design and form factor resembling a Mac Mini, but different in that it is the first desktop computer Apple has offered that has a compelling combination of power and price. The Mac Studio is more powerful than the best iMac and even the costly Mac Pro with a price point that should be appealing to most photographers.
Options are good to have, and the Mac Studio is an extremely compelling option for photo editing. It can also be intimidating for photographers to figure out what they should buy and how they should configure a Mac Studio for their photo editing needs. Photographers less experienced with what the technical choices tend to upgrade as much as they can possibly bear, often overbuying for their needs.
This guide walks photographers through those choices to help them configure the Mac Studio to meet their needs. Here is the advice for those who don't need the details and just want to know the sweet spot configuration (best price to performance) for photographers:
The base model Mac Studio with the M1 Max 10-core CPU/24-core GPU/16-core Neural Engine System on a Chip, 32GB of unified memory, and 512GB of SSD storage is a powerhouse photo editing computer that will handle everything a photographer can throw at it (including some video work) for years to come.
NOTE: This is a guide aimed primarily at still image photographers. There are a lot of photographers who also do video, so there is some mention of how the different upgrades can meet video editing needs, but is not the focus. The Mac Studio can be a tremendous video editing computer as well, but the recommendations here would likely be different if that is your focus.
TLDR Configuration Recommendations By Budget
Here is a handy table with the order of the upgrades photographers should do based on their budget and needs. Apple does not make any of the 2022 Mac Studio upgradeable, photographers have to get what they need when they order. Not all of the configuration options are in this list because there are some options photographers shouldn't waste their money on. We start with the base 2022 Mac Studio configured with M1 Max 10-core CPU / 24-core GPU / 16-core Neural Engine, 32 GB memory, 512GB SSD.
| Upgrade | Total Price | Base Increase | Upgrade Increase | Notes |
| --- | --- | --- | --- | --- |
| Base | $2,000 | 0% | 0% | A powerhouse photo editing computer that will handle everything photographers throw at it. The sweet spot for price to performance! |
| 64GB memory | $2,400 | 20% | 20% | No perceivable difference for most photographers. Future proofing upgrade that ay help photographers who frequently use high (40+) megapixel raw files and do HDR/pano/composites. |
| M1 Max 32-core GPU | $2,600 | 30% | 8% | No perceivable difference for photo editing, helps photographers who do a little video editing. |
| 4TB SSD | $3,800 | 90% | 46% | Skip 1 and 2TB options (photographers still require external drive). Super expensive storage but enough for catalog and raw photos on the internal drive. |
| M1 Ultra Base | $5,000 | 150% | 32% | Massive overkill for ALL still photo editing. Helps photographers who also do a lot of video work – unlikely to see anywhere near 32% better performance. |
| 128GB memory | $5,800 | 190% | 16% | Unlikely to see 16% improvement in performance but future proofs purchase for lots of video work. |
| 8TB SSD | $7,000 | 250% | 21% | Horrifically expensive storage but convenient for doing a lot of video work. |
| M1 Ultra 64-core GPU | $8,000 | 300% | 14% | Helpful for video work with tools like After Effects – unlikely to see 14% better performance |
Decision 1: M1 Max vs M1 Ultra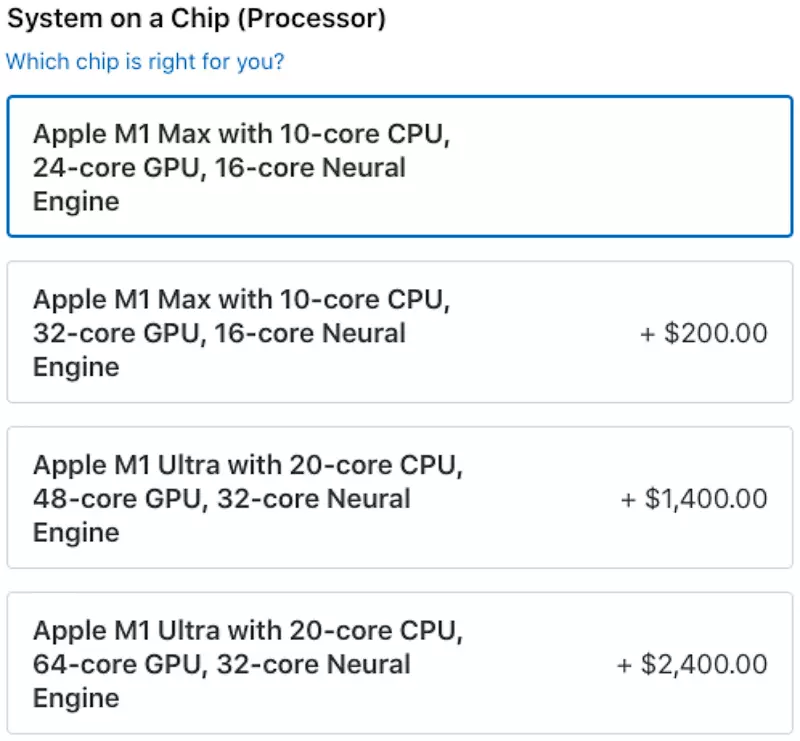 The first decision to make is which System on a Chip will be in your 2022 Mac Studio for photo editing. This decision is a pretty easy one.
Photographers should stick with the base M1 Max with 10-core CPU, 24-core GPU, 16-core Neural engine.
That base processor is a powerhouse for photo editing and most photographers don't need anything more. Let's get into the details.
M1 Max 24-core GPU: Recommended For Most Photographers
After more than 20 hours of real-world testing I have done with M1 Mac computers, the baseline M1 Max processor in the 2022 Mac Studio is more than enough power for still photo editing.
My hands-on use of the 14″ MacBook Pro (several months as my primary photo editing computer as I write this guide) with the M1 Pro processor has convinced me that there is more than enough power there for all types of photo editing (see Photographer's Guide to Buying 2021 MacBook Pro). The M1 Max is a little better prepared to take on your still photo editing workloads.
Photographers can rest assured the base option here is not a compromise for still photo editing like has been the case with base configurations in previous products.
M1 Max 32-core GPU: Recommended For Some Video Editing
Though the base M1 Max in the 2022 Mac Studio is more than enough for still photo editing, it is also enough for occasional video editing. Actually, it is seriously good for video editing. Still, photographers who do nearly as much video as photo editing might consider upgrading the M1 Max to 32 GPU cores if they have a budget of $2,600 or more. The upgrade to 64GB of unified memory should be a higher priority.
Don't just take my word for it. Check out the testing data from processing raw images in the DeNoise AI product from Topaz Labs. DeNoise AI relies heavily upon GPU processing, showed a tiny 4% difference between the M1 Pro (not offered in the 2022 Mac Studio) and the M1 Max. The GPU cores on the M1 Max were only 60% utilized, which means even the $200 upgrade to add 12 more GPU cores to the M1 Max isn't likely to show noticeable improvement in performance for still photo editing. Though it may make enough of a difference when doing video editing to be worth the cost.
M1 Ultra: Overkill For Photographers
Besides the raw performance difference, there are a few differences in the 2022 Mac Studio that you can only get by upgrading the M1 Ultra. The memory is capped at 64GB with the M1 Max and goes up to 128GB with M1 Ultra. There is also a difference with the front ports where with M1 Max they are USB-C ports capable of 10Gbps throughput and while those are Thunderbolt 4 ports with M1 Max with 40Gbps throughput.
With all those differences considered, both of the M1 Ultra options available in the 2022 Mac Studio are overkill for photographers. Even photographers who do a fair amount of video work. The cost just doesn't make sense. The M1 Ultra might make sense for commercial video editors or YouTubers posting multiple times a week where they must have the very fastest rendering times even if it costs quite a bit more.
Spend the money saved by not upgrading to the M1 Ultra on a good screen (see What Photographers Should Look For In Laptop Screens For Photo Editing) or a good 3-2-1 storage setup (see Help With Drive Space and Backups For Photographers).
Decision 2: Memory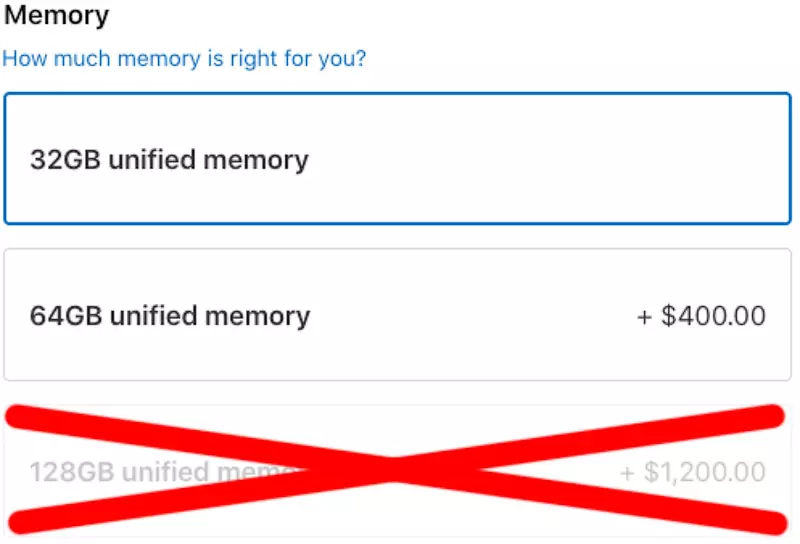 Next up is the decision on how much unified memory will be in your 2022 Mac Studio. I'll say again here that this isn't something you can change after you buy the computer, so you have be confident in your decision. Fortunately you can't really make a bad choice here.
Photographers should stick with the baseline 32GB of memory.
32GB Unified Memory – Recommended For Most Photographers
Memory in M1 computers is not comparable to memory in Intel or AMD computers. With Intel/AMD computers, including the older Macs that had Intel processors, 16GB of memory was the acceptable compromise given the cost. Photographers on a tight budget could have things work pretty will with just 16GB of memory, as long as they weren't processing really large megapixel images and/or doing HDR/pano/composite work. 32GB was the recommended amount of memory, with 64GB or 128GB being worth the cost for those more advanced phot editing techniques.
All of that changes with M1 computers. 16GB of memory in an M1 performs better than 32GB in an Intel/AMD machine. Check out that link to see some real-world testing data comparing M1 computers with various amounts of memory against AMD/Intel machines with various amounts of memory. I am amazed at how well M1 computers do with 16GB of memory.
The good news is the baseline configuration of the 2022 Mac Studio has 32GB of memory! Where 16GB of memory would have been just fine for most photographers, even when doing heavier photo editing tasks like HDR/pano/composite work, you are getting twice that with the base model.
64GB Unified Memory – Future Proofing and Video Editing
Most photographers are unlikely to see any perceivable difference with photo editing on a Mac Studio with 32GB of memory vs 64GB of memory. At least not here in 2022 or for the next couple of years. The M1 platform is still new enough we really only get software that is built to run natively on the platform but isn't truly optimized for it.
Again, I am going to draw upon my testing of the DeNoise AI software where in the testing I found a pretty significant memory leak issue unique to the M1 platform. It may seem counter-intuitive for me to point to a memory leak issue in software running on the M1 while also saying that most photographers don't need to spend money to upgrade the memory. Hear me out.
A bug of this kind should have caused massive performance issues and yet it did not! It makes it the perfect argument for photographers not needing to spend money on upgrading the memory. DeNoise is software that runs natively on M1 but is clearly not optimized for the platform yet M1 had better testing results than powerful PCs. My 13″ M1 MacBook Pro (not M1 Pro, M1 Max, or M1 Ultra) with only 16GB of memory compared very favorably in the testing, even with the cards stacked against it with a bug of this type. Amazing.
The sweet spot for most photographers will be the baseline 32GB of memory. However, the cost is not terrible to go to 64GB of memory and if you have the budget of $2,400 this is the upgrade I recommend first in the Mac Studio. Baseline everything else and buy the memory upgrade. In the future, as software gets better optimized to run on M1, it is likely that 64GB of memory will become more important.
I also recommend this 64GB memory upgrade to photographers who do almost as much video editing as they do photo editing. The GPU cores upgrade and unified memory upgrade both improve the video editing experience enough to justify them.
128GB Unified Memory – Overkill For Most Photographers
Hopefully the data from my real-world testing of M1 computers using DeNoise AI has convinced you that 32GB is more than enough for most photo editing work. 64GB may be worth the cost to some photographers. The upgrade to 128GB of memory is not something I think can be justified for photo editing work. Even when doing a lot of video editing.
With other upgrades making a bigger difference to the photo editing experience on the 2022 Mac Studio, I don't recommend an upgrade to 128GB of memory unless you have a budget of $5,800. That is a lot of money to spend on a photo editing computer when the baseline model is such a powerhouse. Spend money on GPU cores in the M1 Max and much higher amounts of storage before you go to the M1 Ultra and 128GB of memory.
Decision3: SSD Storage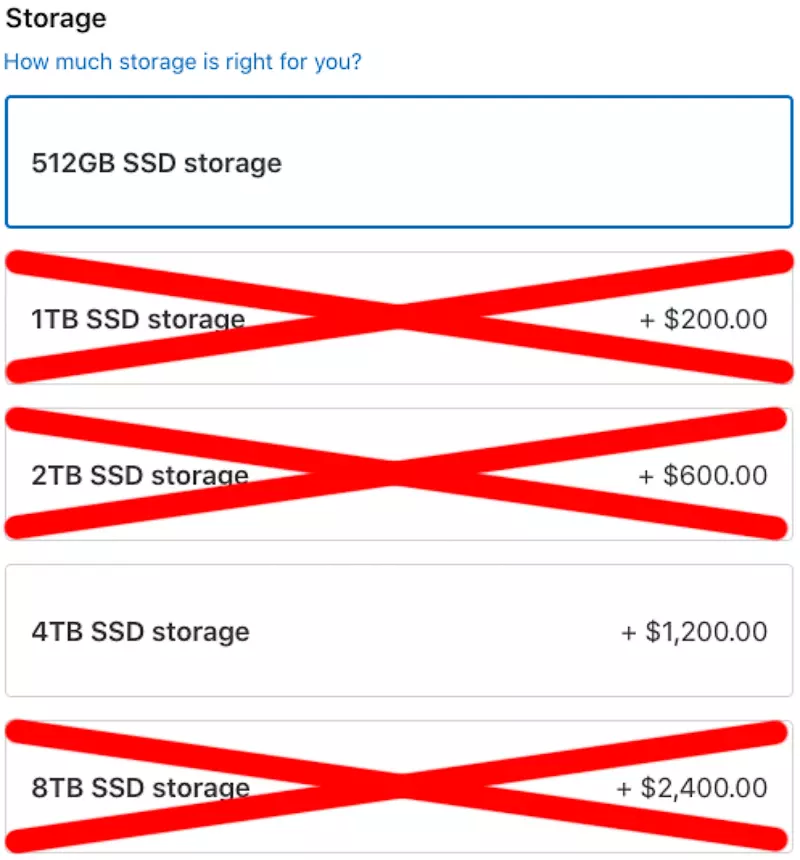 The last decision photographers have to make when buying a 2022 Mac Studio is the amount of SSD storage. Like all the other choices being made, you can't change this after you buy a Mac Studio, you have to get it how you want it when you order.
This can also be a harder decision for photographers as it doesn't take long for even the hobbyist to understand how important storage is. With the ports on the Mac Studio supporting extremely fast storage, this decision doesn't directly affect performance as much as the other decisions. This decision is more about ease of use.
Photographers should stick with the baseline 512GB or upgrade to 4TB of SSD storage and ignore the other options. Let's get into why.
512GB of SSD Storage – Recommended For Most Photographers
This is the sweet spot for most photographers. 512GB of SSD storage is plenty of room to install all of the photo editing tools a photographer may want while still leaving enough room for video editing applications, multiple browsers, and office suites (both from Apple and Microsoft). This will also have plenty of space left to easily download and install updates to MacOS, which was a bit of a challenge with only 256GB SSD.
As an example, here is the usage of the 512GB SSD on my 2021 14″ M1 Pro MacBook Pro:

This usage includes the installation of XCode, VSCode, and a number of other developer tools I use on a regular basis. It is plenty of room for photographers to install all of the tools and applications they may need.
What there is NOT enough room for is a Lightroom Catalog and photos. Yes, that is super important to photographers. Yes, that means photographers will have to use external drive(s) for their catalog and photos. With a MacBook external drives can be a bit unwieldy, but it really isn't a big deal for photographers who buy a MacStudio (or Mac Mini).
If you need some help with external storage for your MacStudio, check out Help With Drive Space and Backups For Photographers.
1TB and 2TB of SSD Storage – Not Recommended For Any Photographer
Upgrading the storage on the Mac Studio gets expensive really fast and the 1TB and 2TB options just don't make sense for any photographer. Although it is small enough you actually could, the Mac Studio is not a device designed to go with you on the road. It is designed to sit in your office and even 2TB of storage isn't enough for most photographers to store both their Lightroom catalog and their photos.
If a photographer wants to spend the money to have enough storage for everything and not deal with external drives, it is going to take more than 2TB of storage. 2TB might work for a hobbyist to have enough room for everything, but then the cost of the Mac Studio in general is probably not the right choice with the Mac Mini being a more cost effective (and still massively capable) option.
An argument could be made that the 1TB or 2TB upgrades could allow photographers to work their active shoots on the insanely fast storage on the Mac Studio, then move the images to external storage when the session is completed. On my PC this was the workflow I used extensively. There are three reasons I don't think this is the right workflow for most photographers buying a Mac Studio:
No question the internal SSD in the Mac Studio is going to be the fastest storage available. Doesn't matter the external drive you connect to the Mac Studio, the internal drive is going to be faster. However, the data from hands-on testing I have done with photo editing tools has shown that they don't take full advantage of the storage speed. Lightroom Classic uses a max of about 45MB/s and DeNoise AI about 80MB/s.

I have tested this extensively with all types of raw files and sizes. The performance was the same when using an external drive connected via USB3.2 Gen 2 (10Gb/s) that had real world speeds of 650 MB/s vs the internal SSD of the 2021 M1 Pro 14″ MacBook Pro offering real world speeds of a whopping 5700 MB/s.

There is no noticeable difference in performance with storage speeds above 100MB/s when running photo editing tools.

External storage is less expensive. The ports on the Mac Studio, even those that are a tad slower when you have the M1 Max processor vs the M1 Ultra, are all fast enough the storage speeds will not impact performance of photo editing applications.

You can accomplish the same workflow by working from a fast externally connected SSD (Thunderbolt or USB3.2, USB 3.0 is sufficient but does have as much as a 30% performance cost) for your active shoot and then migrate the shoot to a slower externally connected drive.

I have been testing and recommend the OWC Envoy Pro Elektron ($100), OWC Envoy Pro SX ($180), OWC Envoy Express Enclosure ($80 + your own M.2 drive), or the SanDisk Extreme Pro SSD ($200) as all being excellent options for faster storage speeds than your photo editing tool will take advantage of.
An external drive can be disconnected from one computer and attached to another. Next Mac upgrade you make you don't have to worry about migrating your catalog or images to the new computer, it is all there on the external drive. Disconnect it from the old, connect to the new, done!
4TB of SSD Storage – For Photographers Who Can't Stand External Drives
At a cost increase of at least 45%, the upgrade to 4TB of SSD storage doesn't make sense for most photographers. External drives are far less expensive and can provide far more storage. Plus, photographers REALLY need to implement a 3-2-1 backup solution which means even the photographer who hates external drives is going to have to do that no matter how much storage they buy in their Mac Studio.
However, for the photographer who despises external drives and has a budget of at least $3,800 to spend on their new Mac Studio, 4TB is an option that makes sense. Photographers should upgrade the memory and the M1 Max processor before the 4TB upgrade.
8TB of SSD Storage – Not Recommended For Any Photographer
Yes, 8TB of storage in the Mac Studio is plenty of room for most photographers to store their Lightroom catalog and all of their photos. However, the costs are significant and don't make sense for nearly any photographers. Photographers should only upgrade the Mac Studio to 8TB of SSD storage if they have the massive budget of $7,000! Upgrade the memory to 128GB, and the processor to the base Max Ultra before the 8TB of SSD storage.
The Mac Studio is a desktop computer. It is trivial to use external storage. Photographers will be much better off spending the money it takes to upgrade to 8TB of SSD storage on implementing an entire 3-2-1 backup solution. Even better than using single external drives, for less than the cost of this upgrade photographers can invest in a RAID system (see Photographer's Guide to RAID).
Did this article help you?